Still Suffering From Plantar Fasciitis or Achilles Tendonitis Despite Doing Calf Stretches?
Many (most) people do calf stretches WRONG
Watch the video to learn how to do calf stretches correctly...
If You're Overpronating While Stretching, It's Only Going To Reinforce That Bad Movement Pattern When You Walk
If you're like many people with plantar fasciitis, chances are you may overpronate when walking.  (If you don't know what "overpronating" means, make sure to watch the video above for a full explanation.)  Many people try stretching their calves as a treatment for plantar fasciitis.  However, if you also overpronate when stretching your calves, it won't help your plantar fasciitis... It will only reinforce  your bad habit of overpronating.  There is a better way to stretch your calves though.  Watch the video above and read the summary tips below to get the best effect from from you calf stretching so that you can relieve foot and ankle pain.
Start out with your hands on the wall and one foot back.
Make sure your feet are pointed straight ahead and pointed towards the wall.
Lift the arch on your foot and crunch your toes.
Lean forward slightly to stretch (You won't have to go far if you are doing it correctly.)
Keep leaning forward until you feel like you can't go any further.
Hold that position for about 1 minute.
Switch feet and repeat.
Do You Want More Great Tips To Relieve Foot and Ankle Pain?
Request a copy of our FREE Plantar Fasciitis Guide...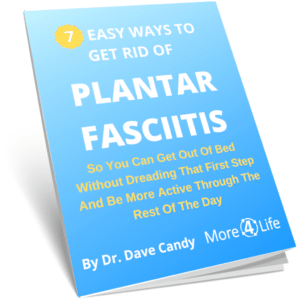 6 Easy Ways To Ease Plantar Fasciitis

This FREE guide explains 6 easy ways to ease plantar fasciitis that you can start using right away! Plus get a special offer on custom orthotics for plantar fasciitis relief.
Do You Need Some Help For
YOUR

Foot And Ankle Pain?

Choose one of the options below to talk to our specialist...