Do You Suffer From Chronic Foot Arch Pain?
Maybe It's NOT Plantar Fasciitis.
Watch the video below to find out what else can cause foot arch pain that's not plantar fasciitis, plus how you can relieve chronic foot pain...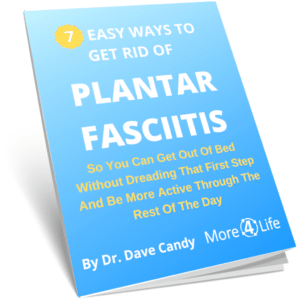 What Can Cause Foot Arch Pain That's Not Plantar Fasciitis?
Foot arch pain can be caused by a variety of problems. Most people assume that if you have pain on the bottom of your foot, that it's caused by plantar fasciitis.
The most common symptoms of plantar fasciitis are pain in the heel or arch of your foot when first stepping out of bed, or pain after standing or walking for long periods.
Common Causes Of Foot Arch Pain
Plantar fasciitis
Calf muscle trigger points
Lisfranc Injury
Nerve Pain

Tarsal tunnel syndrome

Medial Plantar Nerve
1st Branch of Lateral Plantar Nerve Pain (Baxter' Nerve)

L4-S2 Nerve Root Referral
Diabetic Neuropathy
Foot Arch Pain From Plantar Fasciitis
The plantar fascia is a thick sheet of tendon-like connective tissue on the bottom of the foot. It's also referred to as the "plantar aponeurosis" as labeled in the image below.
When you have either a high arch foot that's too stiff, or your foot overpronates, you can irritate the plantar fascia, causing it to get inflamed (-itis ="inflammation")
However, in many people with "plantar fasciitis" MRI's of people with foot pain, inflammation is actually NOT present."
Foot Arch Pain From Calf Muscle Trigger Points
Trigger points in your calf muscles can cause referred foot arch pain that's not plantar fasciitis.
Along with stretching your calves, manual trigger point therapy, and trigger point dry needling can help foot arch pain caused by calf muscle trigger points.
Lisfranc Injury
A Lisfranc injury is a sprain or fracture of the midfoot bones that can cause foot arch pain.
Lisfranc injuries usually occur from a traumatic injury to the foot such as landing on a pointed toe.
Lisfranc injuries can cause the arch of the foot to collapse, leading to foot arch pain.  However, often Lisfranc fractures don't show on initial x-rays, especially if the x-rays are not taken in a weightbearing position.  These types of foot injuries often go misdiagnosed for a year or more.
Foot Arch Pain From Nerve Problems
Nerve problems are a highly under-recognized cause of foot pain.
Often nerve pain in the foot gets diagnosed as plantar fasciitis, especially if there's not numbness and tingling in the feet.
Nerves themselves have no "nociceptors" - free nerve endings sensitive to painful stimuli. However, the connective tissue sheaths around nerve DO have nociceptors and can be a source of pain.
Tarsal Tunnel Syndrome
Tarsal tunnel syndrome comes from irritation of the tibial nerve along the inside of the ankle.
The tibial nerve branches into the medial plantar nerve, lateral plantar nerve, and the medial calcaneal nerve.
The medial plantar nerve and the first branch of the lateral plantar nerve can cause foot arch pain that's often mistaken for plantar fasciitis.
Lower Back Nerve Roots (L4-S2)
The nerve roots from the lower back can cause referred pain into the feet.  Foot arch pain can be causes by any of the nerve roots from L4-S2.
Attribution: Modified from Grant, John Charles Boileau, Public domain, via Wikimedia Commons
Often this type of foot pain occurs along with back pain and/or sciatica, but many times people don't connect their foot pain with their back pain or sciatica.
They think "I have back pain and plantar fasciitis" rather than realizing that the foot pain can be caused in whole or in part by their lower back nerves.
Foot Pain From Diabetic Neuropathy
Diabetic neuropathy often occurs in BOTH feet, not just one.  It usually causes some numbness or tingling, along with a burning pain in the feet.
The best treatment for diabetic foot pain is controlling blood sugar through proper diet and exercise.  Diabetic shoes can also reduce the risk of foot ulcers.
How To Relieve Foot Arch Pain
The treatment for foot arch pain largely depends on the cause.  However, here are some general tips to relieve foot arch pain, whether or not it's plantar fasciitis.
Pronate The Proper Amount
For most kinds of foot arch pain, whether it's plantar fasciitis or not, avoiding over-pronation and under-pronation can help.
A foot that pronates too much will cause the foot to flatten and irritate the structures on the bottom of the foot - the plantar fascia, foot muscles, tendons, ligaments, and nerves.
A foot that doesn't pronate enough won't absorb shock and will cause too much shock, potentially causing heel pain, knee pain, hip pain, or lower back pain.
The RIGHT Kind Of Orthotics
Orthotics can help you support your arch and control pronation, but you need the proper type.
Off-the-shelf or poorly prescribed custom orthotics can be one reason why people continue to suffer with foot arch pain even after going through several different pairs of orthotics or arch supports.
Often custom orthotics from a podiatrist are hard and uncomfortable and just make your feet hurt more. People with TRULY flat feet need firmer orthotics to give structure to their arch.
However, if you have normal to high arches, you probably don't need a hard orthotic. 
You may just need an insole offering cushioning and a little support to control how much your foot pronates when walking or running.
Or, if you have a high arch you might just need something to fill the gap between your high arch and your shoe to give you some shock absorption.
Want to find the RIGHT kind of orthotic for your foot pain?
Learn about our custom orthotics for plantar fasciitis, and other types of foot pain.
Exercises Can Help Foot Arch Pain
Calf stretches and foot stretches can also help various types of foot arch pain.
Don't Neglect The Things Above The Foot
Your hips control how you balance your body over your feet.  If you have weakness in your hip muscles, it can cause your leg to twist inward and make your foot over-pronated.
As mentioned above, you also want to make sure that the nerve roots from your lower back aren't a contributing factor to your foot arch pain.
Want To Discover The Cause Of Your Foot Arch Pain?
Click the button below to request your Foot Pain Discovery Visit
Not Ready To Schedule A Visit?
Explore on your own our FREE copy of our Plantar Fasciitis Guide...