Our Treatment For Pinched Nerves In The Neck Provide Both Fast And

Lasting

Relief!
Watch the video to learn how our treatment for pinched nerves in the neck help people in St. Louis get fast and lasting relief from neck, shoulder, & upper back pain ... even when other treatments have failed!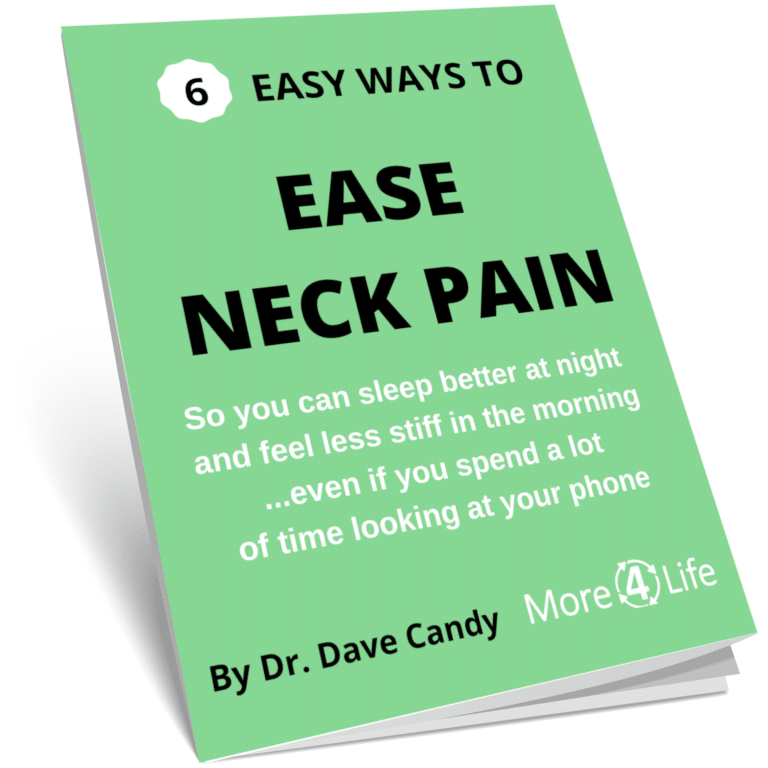 A Personal Message From Neck Pain Relief Specialist, Dr. Dave Candy
Doctor of Physical Therapy
Board-Certified Specialist in Orthopaedic Physical Therapy
Certified Athletic Trainer
Certified Myofascial Trigger Point Therapist
Fellow, American Academy of Orthopaedic Manual Physical Therapists
Hi, I'm Dr. Dave Candy and welcome to More 4 Life!
Do You Get Sharp, Shooting, Or Burning Pain In Your Neck, Shoulder, Arm, Or Upper Back From A Pinched Nerve In Your Neck?
If pain from a pinched nerve in you neck is making it difficult for you to do everyday activities like back up a car, check your mirrors while driving, or just sleep comfortably at night without waking up stiff in the morning, then you're in the right place.
Many people with pinched nerves in their neck think they just "slept wrong".
But unless you fell asleep on the couch with your neck twisted in a funny position, did you REALLY sleep any different than you did most other nights?
Pinched nerves in the neck are often a sign of some bigger underlying problem.
They're like the tip of the iceberg.
The neck pain and stiffness upon waking up is the 10% of the problem that you see above the surface.
To get relief from a pinched nerve, AND keep it from coming back you need to address the other 90% of the problem.
If you'd like to get FAST and LASTING relief from a pinched nerve in your neck, we'd love to help you.
If you're in a lot of pain and you need help fast, the best option would be to request an appointment with one of our specialists, and we'll find out what's wrong and get you feeling better fast.
However, if you've been dealing pinched nerve for a long time, you may have already had other treatments for pinched nerves that HAVEN'T WORKED!
Some things people commonly try for pinched nerves in their neck include:
Pain Medications
Heat Packs
Massage Guns
Exercises from YouTube
Chiropractors
Physical Therapy
Massage Therapy
Injections
If you've tried some or all of these things and they haven't worked, you may start to become a little skeptical about spending more money on another treatment for fear that it won't work.
If that sounds like you, have no fear!
Many of our patients with chronic neck pain had similar concerns before coming to see us.
That's why we offer a FREE DISCOVERY VISIT, so that you can discover what's causing your neck pain and how to get it to go away
If you'd like to request this 100% risk-free visit with one of out therapist, just click the button below to see if you qualify for one of our FREE discovery visits now.
Now, if you're not quite to the point of wanting help for your neck yet, that's OK.
Perhaps you just woke up with a pinched nerve in your neck for the first time.
Or maybe you're just looking for some self-help tips or other home remedies for a pinched nerve that you can start to use right away.
If that's the case, go ahead and download a FREE copy of our neck pain guide called:
"6 Easy Ways To Ease Neck Pain"
Inside you'll find…
Information about neck pain you've probably never heard

6 simple self-treatment tips you can start using today to ease your neck pain from the comfort of your own home

Sleeping positions to keep you from waking up in the morning with a stiff neck

The most important things to do to keep neck pain from coming back in the future.
Just click the "Yes! I Want The FREE Guide!" button below to instantly receive the a copy of our neck pain guide by email.
You'll learn valuable information that shows you how to that how to relieve pinched nerves in your neck without pain medication, injections, or surgery.
I work with people just like you to find relief from pinched nerves. What I can tell you is that treatments like pain medications, chiropractic adjustments, massage therapy, injections, or surgery may all be helpful in the short-term.  However, on their own, they are not likely to provide long-term relief.
Why? Because they only treat the symptoms of pinched nerves without ever addressing what caused the pain in the first place!
I know so many people who have just accepted that chronic neck or shoulder pain from a pinched nerve is now a normal part of their lives. This does NOT have to be you!
My FREE e-book will explain why you should have hope that you can live happy, healthy life you want without being bothered by pinched nerves in your neck.
This FREE Neck Pain Guide is perfect for you if…
You wake up with a stiff neck first thing in the morning -or-

You get stiff when working at a desk or turning your head when driving a car -or-

You have trouble lifting or carrying things, especially above shoulder level -or-

Your neck, shoulder, upper back, or arm pain gets worse at the end of the day or when you're tired -or-

Your neck and shoulder pain seems to get worse (or even causes headaches) when you're stressed -or-

Your pinched nerve keeps you from sleeping well at night, or you have to toss and turn in bed to get comfortable -or-

You've had multiple episodes of pain that get better, but then have flare-ups and the pain comes back.
If a pinched nerve in your neck is keeping you from sleeping at night, moving your neck during the, or concentrating at home or at work, then you need to take a few minutes to read this free guide.
The guide is NOT for you if you're content to live with taking pain medication, don't care about fixing the MAIN problem, or you don't mind continuing to live with neck pain and stiffness.
What would your life look like in a few weeks if you were free from the pain caused by pinched nerves in your neck?
So go ahead... just click the "Yes! I Want The FREE Guide" button to instantly receive a copy by email.
There's no catch… I'm doing this because I believe your healthcare decisions are important and having the right information will help you to make the best choice about what to do to ease your neck pain. Just click the button below, and I'll send it to you right away!
Wishing you the best,
Dr. Dave Candy, PT, DPT, OCS, ATC, FAAOMPT
Need Help For A Pinched Nerve In Your Neck?
Download your FREE copy of our neck pain guide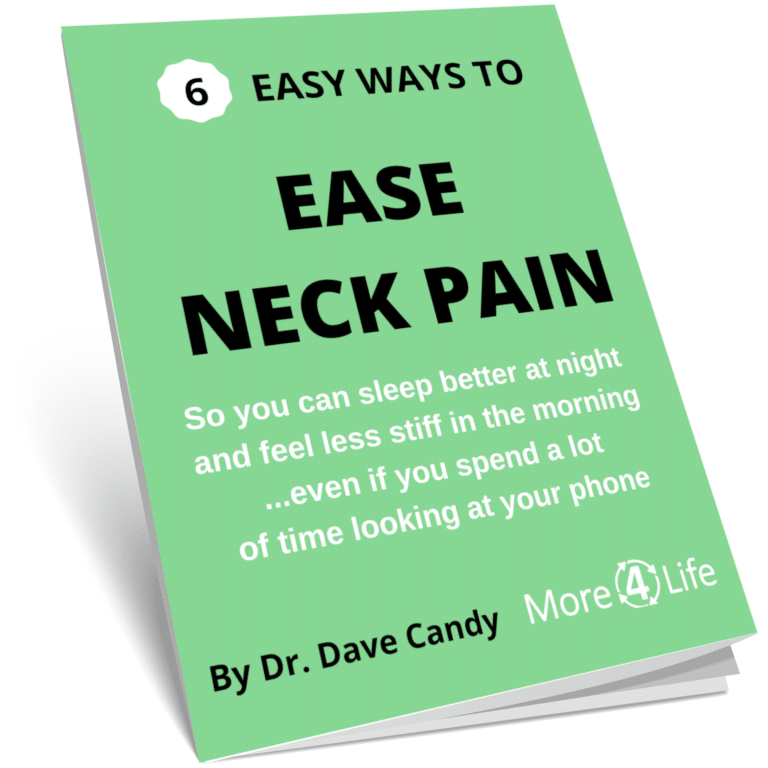 Look What Other People Near You Who Have Had Treatment For Their Neck Pain Are Saying About More 4 Life on Google:
Need Help Right Away?
Choose From One Of The Options Below...